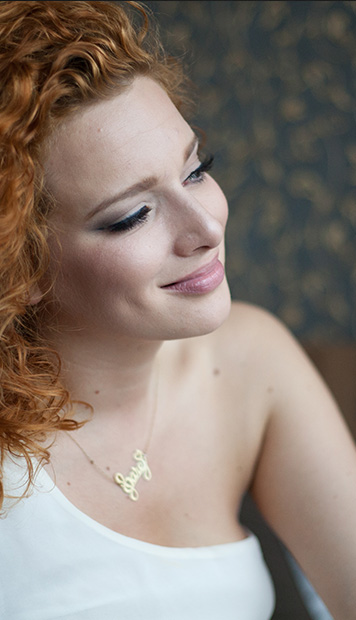 Olga Barej - singer, actress of Polish Television, author of the music album "Polskie Kołysanki". A graduate of the Vocal School of Jerzy Wasowski at the Faculty of Jazz and Stage Music. Finalist of tv music talent-shows, such as "Szansa na Sukces", "X Factor", "The Voice of Poland", winner of the award in the "Piosenka jest Dobra na Wszystko" competition, winner of the song competition "Stacja Kutno", winner of the International Festival of Polish Songs "Malwy".
She gained her stage experience under the supervision of Natasza Urbańska and Janusz Józefowicz at the Buffo Theater. She trained her vocal skills under the supervision of Agnieszka Kowalska, Ania Szarmach, Katarzyna Rościńska, Elżbieta Zapendowska, Krzysztof Biernacki (SLS), Magda Sekuła-Lemberger (Flow Phonation). She took part in international masterclasses with Kim Chandler (Contemporary Commercial Music), Jackie Hole (Complete Vocal Technique). In 2020, Olga Barej released the music album "Polish Lullabies" with traditional polish lullabies, as part of the Ministry of Culture and National Heritage scholarship program "Kultura w Sieci".
Olga Barej has performed hundreds of performances in Poland and abroad, she has performed at the Polish Ball in London, the Polish Consulate in Lyon, the Albertinum in Dresden, in Vienna and in Prague, among others. She has collaborated with many bands and instrumentalists of the European music scene. She successfully conducts singing workshops for children, adolescents and adults. The voice, smile and natural stage personality of Olga can charm every listener. She knows how to create a unique, intimate atmosphere on stage, but she is also no stranger to strong, rock sounds. Great contact with the audience and exceptional stage charisma transform Olga Barej's concerts into interactive performances in which every viewer can actively participate.
Privately, Olga is passionate about Latin music and travel. She loves Brazilian music, bossa nova and soul - from Ray Charles and Curtis Mayfield to Angie Stone. She appreciates Anna Maria Jopek, Kayah and Maryla Rodowicz among Polish performers. She says that participating in the Astrolabe project is for her a musical journey to the shores of Portugal.